A Dog's Skin Transformation On Fresh Food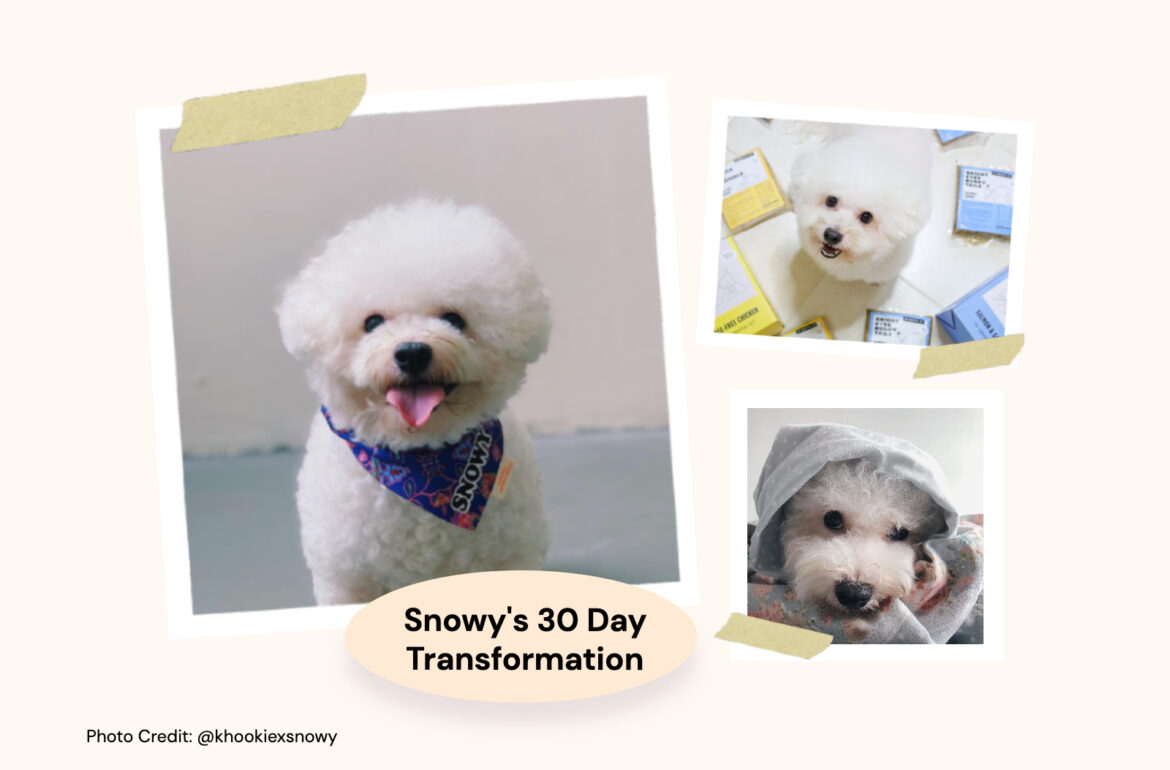 When we hear of health stories from pet parents who have been feeding their dogs and cats fresh food from The Grateful Pet, we share in the joy that pets are experiencing such positive transformations. It also makes us realise how important it is for our best friends to have quality nutrition from fresh ingredients in their diet.
This skin transformation story is about a dog named Snowy, a 9-year-old Bichon Frise. Here's what Venassa K. had to say:
Snowy's skin has always been the most sensitive. During the 'bad' days (usually lasting up to a week) her skin would break out in bumpy rashes that would cause her to chew and scratch them. Her paws were especially irritating for her.

The poor girl would experience this in a cycle that repeated after a week or two. Her fur has always been rough and with no shine to it.

Snowy has been on several diets, from kibbles to freeze dried to gently cooked food. She was on gently cooked previously from another brand, and we decided to try The Grateful Pet because of the inclusion of supplements – which makes things convenient for us.  After being on The Grateful Pet diet (Gently Cooked Cage-free Chicken & Gently Cooked Salmon & Sardine) for about 1 month, Snowy's skin condition has improved. There has not been major outbreak of rashes or any forms of allergies, which happened when she was on other diets.

As for her stool volume, there has been a GREAT difference. Smaller stools and much better stool consistency. No more soft stools and less strong smelling, which makes the humans around her happy.

My other dog, Khookie has been on The Grateful Pet diet for much longer and because I was able to see improvements on Khookie, I convinced my grandma who looks after Snowy to have her start on fresh food with The Grateful Pet. They have been enjoying every meal, leaving nothing behind in their bowls.

While there are many reasons why I feel that any pet parent should try out their meals, the main ones would be:

Transparent ingredient list. Very important for humans who want to know what is going into their pet's body.

Contains supplements, such as reishi mushroom which is not very common in other brands.

Convenient and space-saving. Their meals are flat pre packed meals which is simply the best as it saves a lot of space in the freezer (especially as we share space with our furkids). With a larger surface area, the pouches defrost quicker.

Finally, great customer service! They are very open to share about their products without any hesitation.
---